Looking For Top-Notch Movers in Portland, Oregon? We Can Help!
Looking for top-notch movers in Portland, Oregon? The Smoove Movers deliver affordability, stellar service, and a seamless move every time. Call us today!
If you are looking for top-notch movers in Portland, Oregon, look no further than the Smoove Movers. We are Portland's premier moving company, with over 10 years of experience providing moving services throughout Portland. We have helped hundreds of residents and businesses with their local and long-distance moving needs through the entire process.
We pride ourselves on being a green moving company. We utilize recycled materials for packing and properly recycle or donate anything left over after your move. Our team has also been trained in safe moving practices for preventing injuries.
Whether you need to move across town or out of state, the Smoove Movers can handle any residential or commercial relocation in the Portland area. Contact us today to discuss your moving needs and get a free moving estimate.
Residential Moves in Portland
Moving is never an easy process, but our goal at The Smoove Movers is to make your residential move in Portland as smooth as possible. Whether you're upgrading to a larger home, downsizing to something more manageable, or relocating across town, we've got you covered.
Our experienced movers on the East Coast will treat your home and belongings with the utmost care and respect. We know how much time and love you've put into your space, so we take extra precautions when packing, loading, and unloading the truck.
We use premium packing materials like blankets and bubble wrap to minimize the risk of damage.

Fragile items like dishes, electronics, and art are carefully crafted.

Furniture is disassembled if needed to fit through tight spaces.

Just ask – we're happy to provide premium padded moving protection upon request.
In addition to safety and security, comfort is a top priority on moving day. We strive to be tidy and efficient to minimize disruption.
Snacks and beverages are provided to keep you and your family fueled throughout the day.

For longer moves, we can even arrange for a hotel room at your new location for the first night.

For local Portland moves, we aim to be in and out within 4-6 hours maximum.
Of course, there's a lot of work that happens behind the scenes too! Our dedicated move coordinators will:
Prepare custom floor plans and moving schedules

Arrange rental trucks, supplies, and equipment as needed

Obtain necessary permits to access elevators and doorways

Provide insurance certificates for your protection
Moving services without packing would be incomplete. Our certified packers are skilled at optimizing truck space and protecting valuable cargo for the journey. We provide all supplies and even finish packing your kitchen for a seamless unpacking experience.
Give us a call today to discuss your upcoming residential move in the Portland area. Our team is ready to help make the moving process to your new home Smoove!
Call Our
Professional Movers For Help Today!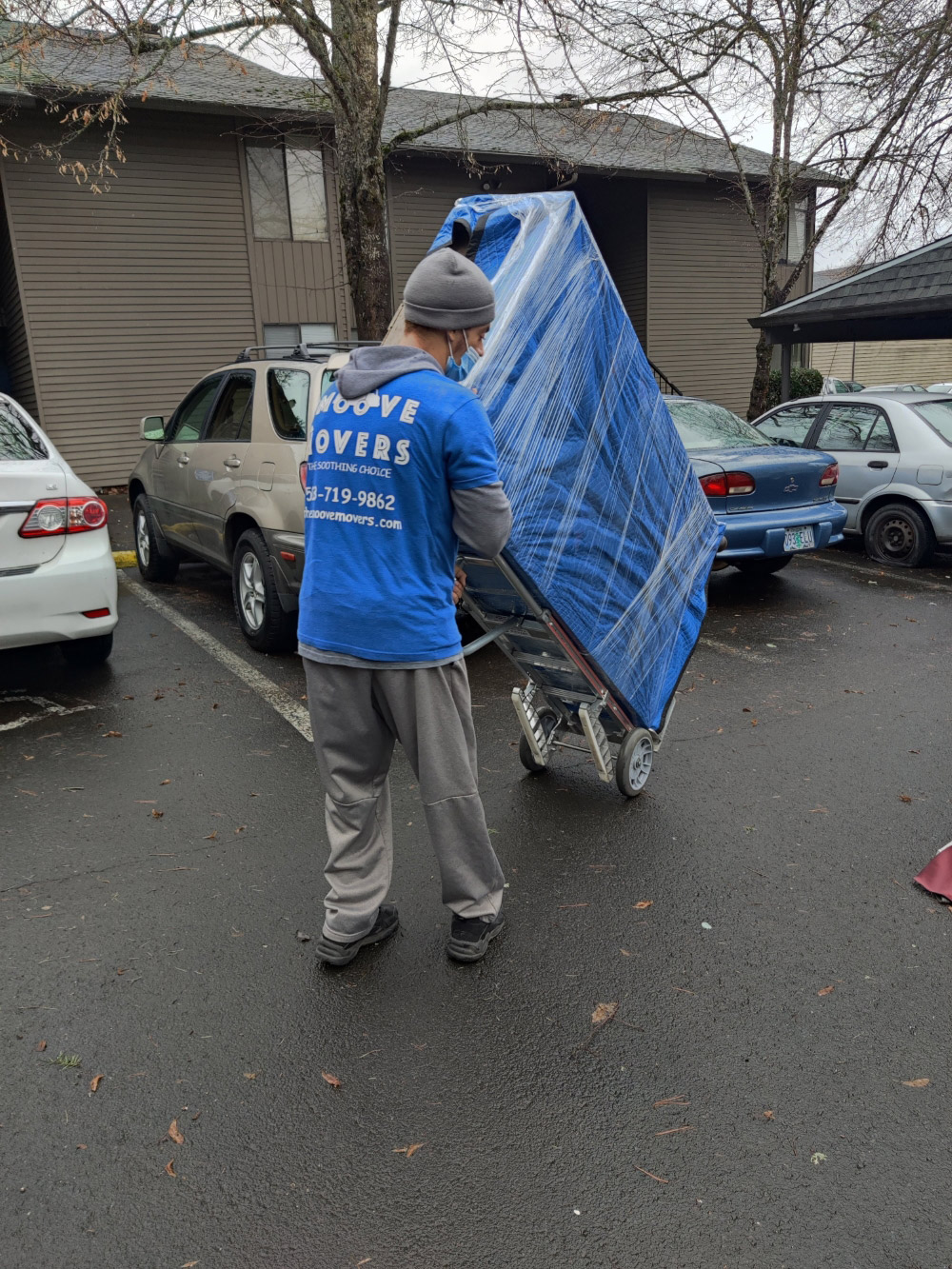 Packing Services in Portland
Packing is one of the most stressful parts of any move. Our expert packing services in Portland take the headache out of getting your belongings prepped for their journey to the new home. Our certified packers have years of experience handling even the most fragile items. They understand that your belongings hold sentimental value beyond dollars.
Fine china, artwork, electronics, and more receive individualized care

Multi-level packing ensures nothing shifts during transit

Custom forms allow items to nestle securely together
We supply all the necessary packing materials for any move size. Whether you need boxes for books or just linens, we've got you covered:
Archives boxes for documents and photos

Wardrobe boxes for hanging garments

Dishpack packs for your complete kitchen setup

Blankets and bubble wrap to surround treasured items
One of our specialties is fully packing and wrapping your kitchen for the big move. Our experts:
Protect pans, knives, and small appliances individually

Bundle fragile stemware and nestle safely

Secure cabinets and drawers with protective linen

Clearly label every box room-by-room
For an additional fee, we can provide live unpacking services at your new Portland home. This includes:
placement of items directly into rooms or cabinets

assembly of furniture

cleanup of all boxes and debris
Give us a call today to receive our moving boxes and supplies completely free! You'll be packed and ready to move into your new place in no time.
Moving Long Distance?
We Can Help
!
Senior Assist Moves in Portland
As we get older, simple tasks can become more challenging. That's why we have created our senior-assisted moving services. Our senior move experts receive specialized training to understand age-related needs. They know to:
Move at an unhurried, safe pace

Clearly explain each step of the process

Be patient and provide extra guidance or demonstrations
We customize our level of physical support based on your abilities. Some services include:
Light packing and labeling of non-fragile items

Disassembling and reassembling furniture

Lifting and positioning heavier boxes or objects

Guiding clients while walking boxes to the truck
We make every effort to reduce stress on moving day through small gestures:
Frequent breaks with snacks and seating

Organizing items in easy-to-navigate layouts

Communicating progress to relieve uncertainty
Peace of Mind: Family members can feel confident knowing our bonded, trained team is managing each detail with grace and care. We are fully insured to protect your property as well.
Does the unpacking seem overwhelming too? Contact us today to discuss your specific needs. A senior move coordinator will evaluate your situation and provide options to find the safest solution for your big day. No request is too small for our top-notch moving company when it comes to your well-being and peace of mind during the transition.
Call to Learn
About the Moving Services We Offer
Loading and unloading in Portland
Once your items are carefully packed, it's time for our skilled loadmasters to maneuver everything safely onto the truck. Our loading crew in Portland are experts at maximizing space. They consider:
Weight distribution to maintain balance

Securement with straps and load bars

Climate controls like tarps to protect against elements
Loading Strategies – Tricks of the trade include under-bed storage and utilizing every nook. Fragile items are given premium clearance from wheels and doors.
Unloading Unfolded – At the destination, our unloaders follow a mirrored precision. Items are removed layer by layer:
Heaviest items lifted from the back first

Boxes lowered via cargo nets or ramps

Targeted stacks organized by floor/room
Inside Assistance – For stairs or long carries, we provide able bodies to deliver boxes directly where you need them – like garages, bedrooms, and offices.
Debris Patrol – Our clean team makes a final sweep of the truck and new location to collect all loose materials.
Surveys Conducted – We photograph key areas pre and post as a record. The condition forms document issues to address rare damages.
Our certified loaders maintain qualifications on operating straps, dollies, ramps, and electronic freight systems for superior handling of relocation machinery. Contact us for loading or unloading assistance even without a full-service move. Trust our specialists to handle all cargo aspects flawlessly.
Make the Stressful Process of Your Next Move Easy –
Call Now
Moving is a great time to purge unwanted items and collect dust. Let us lend a hand with our junk removal services in Portland. Our professional purge pros can clear:
Old furniture, appliances, and electronics

Yard waste and landscaping debris

Basement/attic clutter gathered over the years

Renovation and construction leftovers
Eco-Conscious Hauling – As a green company, we'll properly dispose of items to keep them out of landfills, such as:
Metal and other recyclables are taken to recycling centers

Donatable items find new homes through charities

Hazardous wastes like paint and chemicals get incinerated
Deep Cleans Included – For a full clean out, we'll haul bulk items and do light cleaning like:
Wiping and sweeping floors, windows, and other surfaces

Organizing closets and cabinets

Rinsing out garage floors and sorting tools
Pre and Post-Move – Service Schedule junk removal before your move for a fresh start or after to unpack the new place. You'll feel settled in no time!
Same Day Service – For quick cleanouts, ask about our rapid response team which works to complete jobs the same day you schedule, making space fast.
Let us help you de-clutter! Junk removal provides the perfect open canvas before the thrill of a new home. Or consider our sustainable junk hauling subscription plan for homeowners needing regular large item disposal.
Call Our
Top Notch Movers to Make Your Next Move Easy
Frequently Asked Questions
What areas of Portland do you service?
We cover all areas within city limits from downtown to the suburbs. Favorite neighborhoods include NW, N, NE, and SE Portland. Ask about our residential move services to your specific neighborhood!
How much do you charge for local moves within Portland?
Rates vary based on distance, size of move, and services needed. Contact us today for a custom quote tailored to your move!  
What is the process for booking a residential move with your company?
Simply give us a call to discuss details, and then our coordinator will schedule a pre-move survey and provide a written estimate. Once signed, we'll handle permits, set a moving day, and go from there.
What packing materials do you provide and is there a charge for them?
All packing materials like boxes, tape, and cushioning are complimentary when you book our moving services. This allows a stress-free packing experience.
How can I get a free quote for my upcoming move to Portland?
Contact us anytime by phone or on our website form. We'll need a few details to provide an accurate quote. But it's free, so no risk in getting more info! Let's Smoove your move along.
The Smoove Movers is a full-service moving company, serving the Portland, Oregon area for over 10 years. We offer a range of options to make your Portland move smooth and easy, including packing services with certified packers to protect your valuables, senior assist moves with attentive staff to aid elderly clients in loading and unloading crews to pack the truck securely and junk removal to clear out old items before or after your move. So if you are planning a local, residential, or commercial move in the near future, don't hesitate to give our team a call. We are ready to help!