Looking For Stress-Free Moving Services in Beaverton, OR?
Get a free estimate today for stress-free moving services in Beaverton, OR. The Smoove Movers provide affordable, reliable, and professional services. Call now!
The Smoove Movers is a full-service moving company that has been offering stress-free moving services in Beaverton, Oregon for over 10 years. Whether you need help with a local move across town or a long-distance move to another state, we have the skills and equipment to handle any residential or commercial relocation effortlessly and efficiently.
The Smoove Movers prides itself on careful packing, efficient loading, and stress-free relocation services. Don't let moving become a daunting task for you and your family. Let us help you start packing, implement your to-do list, and create a smooth transition into your new space.
Residential Moving Services in Beaverton
Making a residential move is a big undertaking, whether you're just moving down the street or clear across town. At The Smoove Movers, we've helped hundreds of homeowners successfully relocate within the Beaverton area. As your full-service moving company, we can handle all aspects of your Beaverton move from start to finish.
Getting Your Home Ready for the Move: The first step is getting your home packed up so it's ready for moving day. Our experienced packing specialists will come over, assess what needs to go in each room and provide all the necessary supplies. We'll gently wrap your fragile items, pad your furniture, and safely pack up every box. Our "room by room" approach ensures an organized pack-out.
Packing Tips for a Stress-Free Move: Label every box clearly by room and contents. Pack a "moving day box" with snacks, tools, an overnight bag, etc. Deflate an air mattresses and lay it flat for the truck. Disassemble furniture like beds, dressers, and bookshelves. Ensure you have all packing items ready for use.
Loading and Transport: On a moving day, our trained crew will efficiently load your truck or pod, securing all items safely for transport. With 14+ foot trucks and luggage trailers, we can handle any size residential job in Beaverton neighborhoods like Raleigh Hills, West Slope, or Murrayhill.
Unpacking and Setup: At your new place, we'll expeditiously unload the truck and place items in their designated rooms. Optional add-ons include unpacking boxes and assembling furniture. Just ask if you need help mounting your TV!
No Job Too Big or Small: Whether you're moving across town to Cedar Hills, Hillsboro, or Tualatin, we've got the experience and equipment. The Smoove Movers also assists with apartment and condo relocations in Forest Grove, Aloha, and Bethany.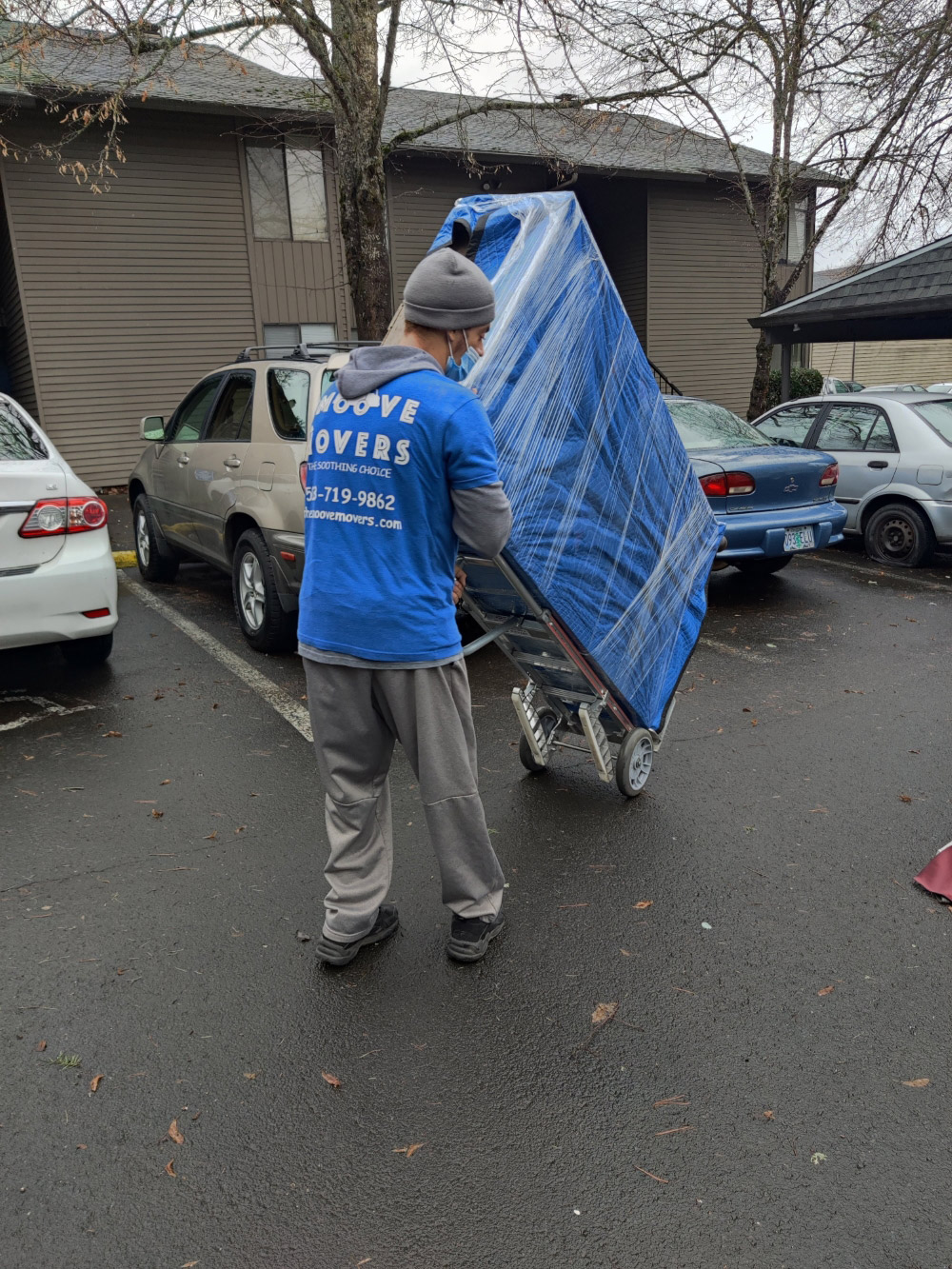 Fully Licensed and Insured Movers in Beaverton
Peace of Mind for Your Big Move: Here at The Smoove Movers, we understand how stressful relocating can be. That's why having fully certified, legal movers is so crucial. Our team goes through rigorous background checks, drug testing, and safety training so you can feel confident every step of the way. As a licensed business with the Department of Transportation, we comply with strict regulations regarding insurance, driver qualifications, and commercial vehicle standards. You'll also get online verification of our active operating authority right on the DOT website.
Adequate Coverage for Your Belongings: Protection is a top priority, so we maintain high liability limits on our insurance policy. Should anything unexpected occur, your furniture and possessions are covered. We've also got workers' compensation for employee injuries on the job.
Trusted Pros You Can Rely On: Many moving companies try to cut corners, but not us. We firmly believe in doing things the right and legal way. Whether you need a move within Beaverton neighborhoods like Cedar Mill, Murrayhill, or West Slope, or further outside to First Grove or Hillsboro, rest assured you're in good hands.
Customer Service Beyond Compare: As locals serving the Beaverton area for over a decade, we're invested in this community. Great communication, timing flexibility, and responsiveness are how we've earned our stellar reputation. Help is always available, just give us a call!
So if safety, professionalism, and accountability matter most for your Beaverton or Portland area relocation, you've found the right movers. Schedule your free in-home moving estimate with us today.
Call Us to Ask
About the Packing Supplies We Offer
Apartment and Condo Moves in Beaverton
Whether you're relocating within Beaverton or to a nearby city, switching apartments, or updating to a condo, The Smoove Movers has your moving needs covered. As experts in residential mobility, we understand the unique aspects of apartment and condominium relocations.
Smooth Sailing for Small Space Moves: Many of our crew members have personally navigated small space moves themselves. We'll ensure your items are packed and placed efficiently to maximize every inch. With dollies, furniture pads, and floor protection, we'll have your place empty and cleaned up in no time.
Hassle-Free for High-Rise & Complex Moves: Moving within a large apartment complex or high-rise building comes with its logistic challenges. By coordinating closely with your property manager, we'll schedule an optimal move-out/move-in plan that doesn't disrupt others. Elevators are no obstacle for our well-drilled crew!
Packing Tips for Tight Spaces: Use every inside cabinet and closet shelf. Stack items inside each other whenever possible. Roll clothing tightly to maximize box space. Go vertically with items stored along the walls.
Extras to Make Your Transition Seamless: For an additional fee, we offer unpacking services. Just tell us where you want items placed so you can settle right in. We can also assemble furniture or mount your TV. Simply relax – we've got this!
So whether you're moving from a place in downtown Beaverton to a West Slope condo high-rise or within a Hillsboro complex, rely on The Smoove Movers. We remove the hassle so your apartment or condominium move is a breeze!
The Moving Process is More than Just Bubble Wrap –
Call Now
Office and Commercial Moving Services
While we specialize in residential moves, we also understand the unique needs that come with office and commercial relocations. Coordinating a workplace move takes extensive expertise — expertise that our professionals excel at.
Experience You Can Count On: We've successfully helped businesses of all sizes with their mobility needs. From small startup moves in Beaverton to large company headquarters transitions, our team develops custom plans with meticulous attention to schedule, budget, and efficiency.
Protecting Valuable Goods and Equipment: For commercial clients, we take extra care in packaging delicate items like computers, supplies, and sensitive documents. Fragile goods are dismantled, wrapped, and secured with maximum care. Larger equipment such as heavy machinery, industrial shelving, and tools all require durable coverings and proper lift gear.
Minimizing Workplace Disruptions: When space is limited, we work efficiently to ensure your office move is completed with minimal downtime. Our professionals are masters of fast unpacking, furniture assembly, and installing new IT infrastructure. Transitions are seamless so your business can hit the ground running.
Additional Commercial Services: Shredding services for confidential files. Janitorial assistance for post-move clean-up. IT maintenance plans during relocation. Corporate relocation project management.
Trusted Vendor for Public Agencies Too: Many banks, medical facilities, and government contractors in the Beaverton area rely on us year after year. Let our deep expertise ease the burden of your next commercial or municipal office transition.
Contact us today to discuss how The Smoove Movers can handle your office or industrial relocation with total ease! A complimentary proposal is waiting.
We Do More Than Move Just a Few Boxes –
Call Our Team
Furniture Wrapping and Mattress Bags
No one likes the idea of furniture getting scratched or dinged during a move. That's why proper wrapping is so important when transferring possessions between Beaverton homes or apartments. We have you covered with our selection of sturdy moving materials.
Custom Furniture Wrapping: Our heavy-duty furniture pads, ties and shrink wrapping work together to create a protective personalized "shell" for your pieces. Whether it's a couch, bed frame, or coffee table, each surface and edge gets enclosed to prevent any accidental impacts en route. Edges are reinforced with overlapping padding for maximum safeguarding.
Mattress Covers Save The Day: For mattresses and box springs, we utilize zippered, quilted moving bags lined with metalized poly. This acts as a barrier from dirt and moisture while transport occurs. The full encasement shields from potential mold due to compression inside the truck or pod.
Unique Pieces Require Special Attention: Bulky items like grand pianos warrant their own custom wrapping including padding, bracing and exterior slings. For less common pieces like pool tables or antique furniture, we make sure defensive wraps and shielding are methodically applied. Nothing is too unique for our creative solutions.
Do-It-Yourself Options Available Too: If you'd like to handle some self-packing, we offer moving rolls, blankets and mattress bags for purchase as needed. Helpful installation videos on our website allow DIY wrapping with confidence. Our trained staff also provides supply installation aid on request.
Quality Materials Stand The Test: Through years of use, our durable padding and protective textiles have proven their resilience time after time. You can feel good knowing your belongings are thoroughly guarded en route within Beaverton neighborhoods like Cedar Mill or Hillsboro routes outside city limits. Our goal is simply peace of mind for your relocation!
So don't entrust something as important as furniture moving to just any company. Let The Smoove Movers properly secure your prized possessions for a stress-free transfer.
Our Experts Help With the Entire Process of Moving –
Call Today
Load and Unload Help in Beaverton
Loading and unloading the moving truck can be one of the most physically demanding parts of any relocation. We want your moving day to be as stress-free as possible. That's why we offer affordable loading and unloading assistance within Beaverton and surrounding cities.
Experienced Movers Do the Heavy Lifting: Our carefully trained crew knows the most ergonomic ways to lift and handle furniture, appliances, and boxes of household goods. By taking charge of the grunt work, we prevent potential injuries that could put a damper on your big move.
Maximizing Efficiency: Through optimized loading patterns and floor-to-truck sequencing, we pack each vehicle to its fullest capacity. This cuts down on trips and avoids multiple charges that other companies may have. Whether your move is within Beaverton neighborhoods like Cedar Mill, Murrayhill, or West Slope, or outside Hillsboro or Tigard, one truck is all we need!
Unpacking Assistance: On move-in day, our crew will expeditiously transfer all items inside your new home. We'll place furniture exactly where you want through skilled coordination. You can then focus on unpacking at your leisure while we handle the heavy lifting once again.
Reduced Stress For You: By taking care of loading and unloading tasks, you can relax more and let the smooth movement operations flow. Just point our team to the rooms, and watch as your furniture appears magically set in place!
Contact The Smoove Movers today for a free in-home estimate. Sit back, unwind, and let our professionals handle the muscle work so you can immerse yourself in the excitement of a new chapter.
Hiring Professional Movers Can Be a Game Changer –
Call Us
Frequently Asked Questions
What areas of Beaverton do you service?
We happily serve all neighborhoods throughout Beaverton like Cedar Mill, Bethany, Sunset, and Raleigh Hills. We also provide moving help in surrounding cities like Hillsboro, Aloha, Tualatin, and Forest Grove. No matter if your move is across town or a bit further outside Beaverton, we've got you covered!
How do you handle furniture assembly/disassembly during a move?
Our skilled movers are experts in furniture deconstruction and reassembly. On move-out day, we'll carefully take apart furniture piece-by-piece, securely wrap each part, and pack it safely in the truck. Then at your new place, we'll reconfigure everything back together perfectly – it'll be like we never even disassembled it!  
What is your packing process for protecting items during the move?
We follow a meticulous packing procedure to keep your belongings safe. After wrapping fragile items, we place security seals on boxes and add specialty cushioning to fill any space. Our crew even labels every box precisely by room and contents. Combined with specially fitted truck padding and our cautious driving, your possessions stay protected the whole way!
What moving supplies like boxes and tape do you provide?
We supply all packing materials necessary for your move including sturdy corrugated boxes, felt-tip markers, tape, shrink wrap, furniture covers, and padding. This ensures a seamless, waste-free packing process. We'll even deliver supplies directly to your home in Beaverton for easy access when you're ready to pack up!
What services do you offer for seniors or people with limited mobility?
For our senior or less mobile clients, we provide extra careful packing, loading, and unloading assistance right within their homes. Our experienced movers are also trained to disassemble and reassemble furniture or mounts and will even help with light cleaning/organization tasks at the new location. Our priority is making any move as low-stress as possible!
The Smoove Movers offer a wide range of moving services tailored to the Beaverton, OR community. We provide services for local moves between all Beaverton neighborhoods, like Cedar Hills, West Slope, and Murrayhill. We provide residential moving services for homes in Beaverton, Garden Home, and Raleigh Hills. We provide packing services to protect belongings during the move from areas like Sunset, Tanasbourne, and Cedar Mill. We provide senior-assisted moves to help older residents in Beaverton, Cedar Hills, and Bethany. We provide loading and unloading help in Beaverton, Westhaven, and Oak Hills. We also provide junk removal from homes and offices across Beaverton, Tigard, and Durham. So if you find yourself in need of more than just wardrobe boxes and packing tape, give our team a call. We are ready to help with your upcoming move!